Sep,11,2019 02:39:34 PM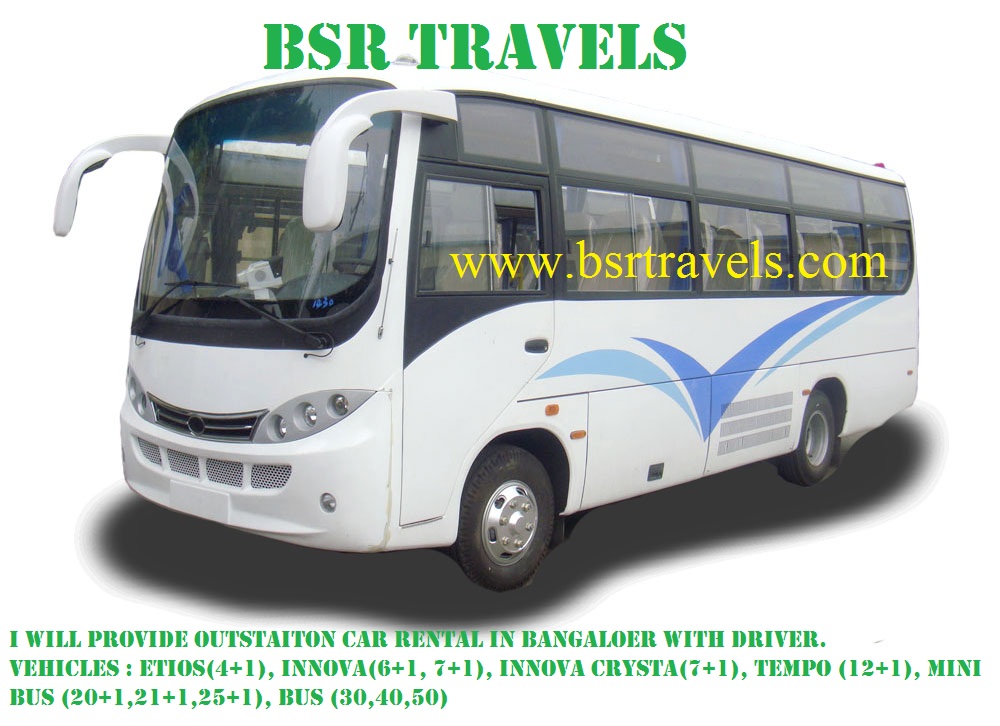 Going on an outstation trip with your friends or family? Then you may be thinking about hiring a minibus for your long or short trip. It is time for you to enjoy your holiday. Make sure your journey is fun, exciting and hassle-free by choosing an ideal vehicle for your travel. With several minibuses available for hire in Bangalore, it may be confusing for you to select the right vehicle! Below are 5 important things to consider before hiring a minibus.
Seating capacity
With a seating capacity ranging from 9 to 18, minibuses are ideal for group travel. When it comes to outstation trips, you have to choose a minibus which everyone will be comfortable in, whether it is a child or an aged person. Before hiring a vehicle, have an estimate of the group that will be travelling. This will help you select the right sized vehicle.
Features and amenities
Journey can be boring without music and movies! If you are travelling long, children can get restless and feel stressed if your minibus do not have those engaging and entertaining features. Ensure that the vehicle you are hiring has additional features such as a video player, music system, TV screen and others. Check if there are USB ports on the DVD and sound systems. With USB ports, children can enjoy their favorite music and movies. The most important thing to consider is air conditioning.
Vehicle condition
Hiring a minibus is simple and easy! However, travelling can become a stressful task if you don't check the condition of the minibus you are hiring. Choosing a clean, tidy and well-maintained vehicle will not only make your travel fun but will also save you from facing multiple breakdowns along the way. Before hiring a minibus, make sure the condition of the vehicle is perfect by visiting the agency and checking the vehicle in person.
Driver's background
Vehicle is in great condition, but what about the driver? A professional, reliable and friendly driver can make your journey fun, entertaining and stress-free. A background check on the driver will help you find how reliable and trustworthy he is. Ask the travel agency whether they conduct background checks and perform any drug tests.
Pricing
With several minibus hire service providers available on the market, it can be easy to hire a vehicle. There are cheap and expensive coaches to suit all your travel requirements. Choose the vehicle that fits your budget. Get quotations from different travel agencies and compare the pricing, keeping the above four aspects in mind.
If you are looking for a company that offers professional minibus hire services at highly competitive prices, contact BSR Travels today.
About BSR Travels
BSR Travels is a renowned company offering affordable minibus hire in Bangalore. Whether it is a private event, corporate function or sporting event, we have a wide range of well-maintained minibuses available to suit your all travel requirements. If you are looking for bus rental in Bangalore for outstation, get in touch with us today. We look forward to assisting and serving you, whatever your travel requirements are.
The benefits of choosing us:
Clean, tidy and air conditioned minibuses

Regularly serviced vehicles
Media players
Experienced, professional and friendly drivers
Customer satisfaction guaranteed
Highly competitive prices
Our Services
       online cab booking bangalore | innova hire outstation bangalore with driver | tempo traveller rent in bangalore | 22 seater minibus hire in bangalore | luxury cars for rent in bangalore