Oct,07,2019 06:35:12 PM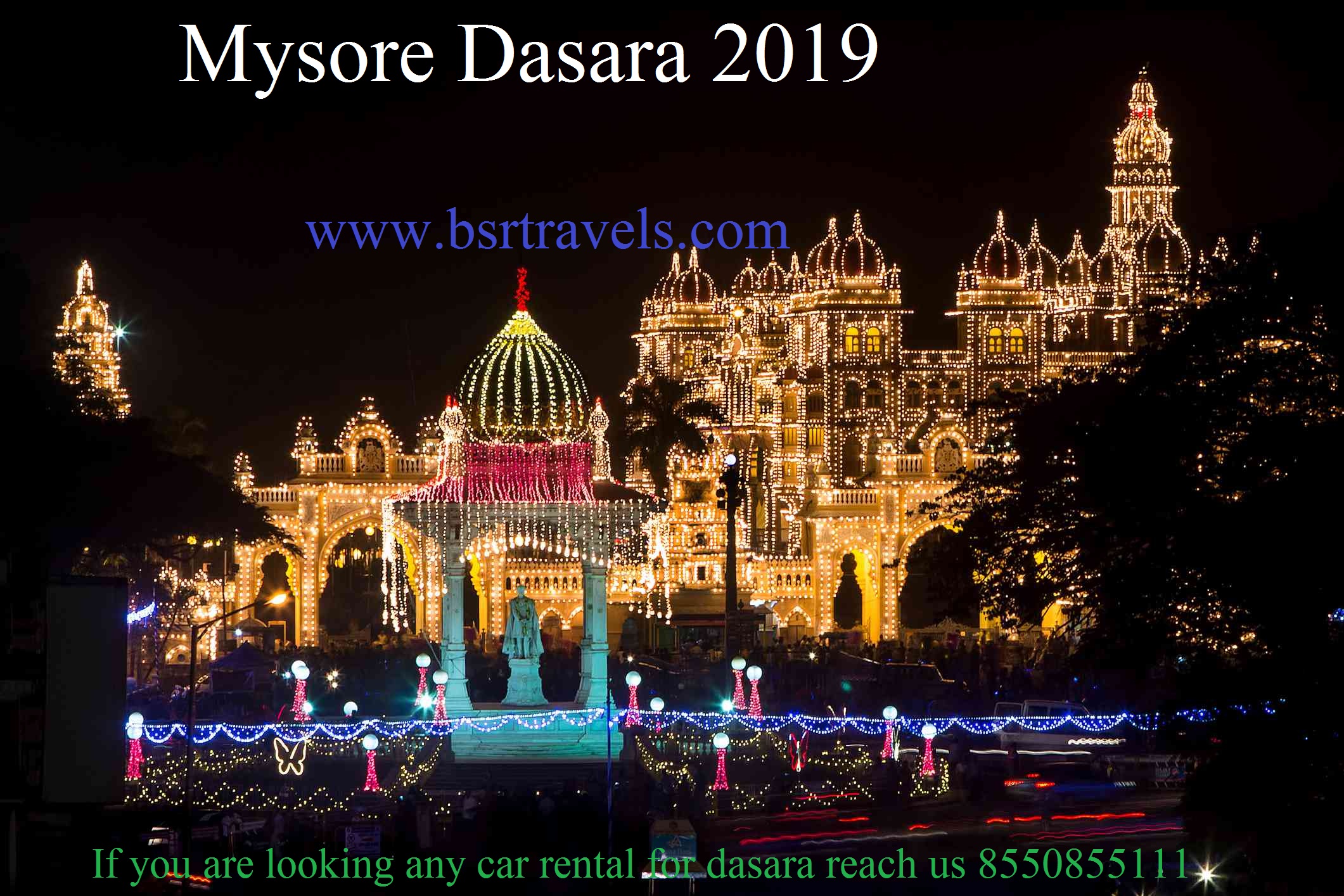 The festival of Dussehra also known as Navaratri or Durga Pooja is one of the most colorful and celebrated festivals in India, which is celebrated for 10 days with great joy and enthusiasm by Hindus. Durga pooja, Dandiya nights, display of Navaratri golu, the procession of elephants, colorful rangolis, burning of Ravana's effigies - the fanfare and the pageantry takes one's breath away.   
Each state in India has its own version of the celebrations but the spirit is the same. If you would like to travel during the festival to see some of the events during the celebration, book your car for Dasara festival organised in Mysore. At BSR Travels, we offer cars, mini buses, and tempo travelers to travel from Bangalore to Mysore at a very low rate. Dusara is the biggest colorful celebration organised in Mysore.
Navaratri festival comes in the month of September or October and is grandly celebrated in the royal city Mysore. Dasara marks the day when Goddess Chamundeshwari (Durga mata) killed the devil lord Mahishasura after a wild battle. The city is full of events every day and tourists all over the world rush here to get a glimpse of the mega procession that happens on the last day. You have a variety to look over- arts, music, royal walks, crafts and more. So make sure to plan to travel this city this festive season. If you are thinking of hiring a car/bus from Bangalore to Mysore, then contact BSR Travels. We are providing special services for this festive season. Not to miss seeing the elephants carrying goddess Chamundeshwari in the city. 
Highlights of Dussehra festival in Mysore that you can't miss:
*Mysore Palace is brilliantly lit up by just about 100,000 lights, daily from 7 p.m. until 10 p.m., during the festival.
*The palace's superb Golden Throne is taken out of storage and assembled in the Durbar Hall for public viewing. Golden Throne can only be seen during this time period.
*Procession (known as Jumboo Savari) winds its way through the streets of Mysore, starting at 2.45 pm from Mysore palace to ending in Bannimantap.
*Highlights include Yuva Dasara (event targeted at the youth), food festival, fireworks, daredevil stunts on motorcycles, cultural programs at various venues, film festival, shopping festival, kite festival, laser show, and a flower show.
Many events that happen as part of Mysore Dasara celebrations are free. However, the Torchlight Parade and the procession require tickets. Events take place at different locations all over the city, including Mysore Palace, auditoriums, the exhibition grounds opposite Mysore Palace, Chamundi Hill and Maharaja's College ground. Totally, Mysore Dasara is Dussehra with a difference!
If you don't want to miss these festive events then plan and head out to one of the top Dussehra celebration places like Mysore with family or friends and experience something new for this festival. BSR Travels help you to have a  most memorable visit in this festive season with special travel packages.
Who we are?
We are BSR Travels we will provide car rental bangalore outstation to any south India. If you are planning any south India tour you can reach us www.bsrtravels.com/index or +91 - 8550855111.