Feb,25,2020 04:12:05 PM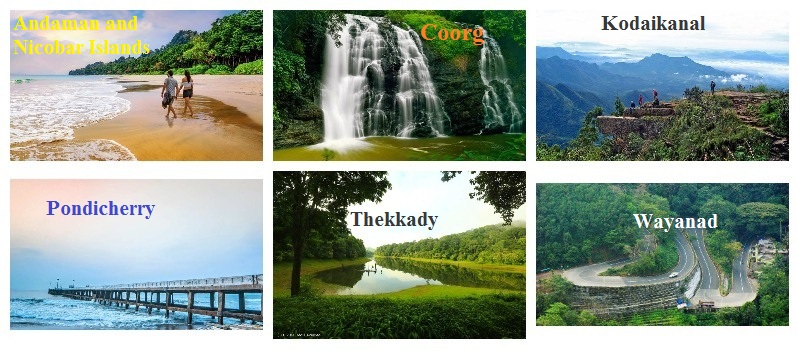 Introduction:
India, as a country, is built upon the pillars of Secularism. Even though Hinduism is a major religion, the minority is not far behind in their cultural contribution, to India. This is one of the major reasons, why there is a natural abundance in tourism centers spread far and wide across the topography. Southern India has contributed a lot to this cause by developing many a tourist havens from its infancy, and developed it over decades, to match World standards. A few of these exotic spots are discussed in brief as found below.
1. Kodaikanal: It was dubbed initially as the poor man's Ooty, but developed into a hot tourism spot almost equivalent to that of Ooty. But nevertheless, Kodai as it colloquially called, earned its rightful title "Princess among Hill Stations" and we will see why.
There are two reasons why a hill station becomes a Tourist spot in Tamilnadu. One is that, the weather should be pleasant beyond April and up  to July of the year. Kodai is definitely that. Apart from this, Kodai Lake is renowned for its clear waters and boating facilities. To add on, there are many places you can go trekking to with the help of the local guide, like Suicide point, Guna caves Etc. The stay is made more pleasant with a wide range of hotels, which would cater to your needs with Multi-cuisine foods.
Book Bangalore to kodaikana cab booking.
2. Pondicherry: aka. Puducherry lies a few hundred kilometers from Chennai, Tamilnadu, and is a Union territory. It is the Tamil Culture that prevails there, but they have maintained the French colonies as it is, despite the fact, the invaders left the territory a long time back. Pondicherry is known for its beaches, the beautiful buildings from the colonial era, magnificent temples and Churches and Its nightlife. Aurobindo ashram is a very peaceful place, where even a pin dropped, would make noise and it is a meditation centre.
3.Wayanad(Kerala): This is situated in the Western Ghats, and can easily claim the trophy of being the most attractive place in the state. Its main attraction is the Wayanad wildlife sanctuary, where it houses many species, from Elephants to Deer. Other spots worth visiting are Edakkal caves, the Heritage Museum &the lovely waterfalls, etc.
                                                    Book with us Bangalore to wayanad car rental.

4. Andaman and Nicobar Islands(ANI): ANI has loosened its tag, that it served as the most notorious prisons during the British era, and is a hot spot for tourism now. Landlocked by water, ANI is renowned for the aquatic pleasures it gives. You can go boating, kayaking, scuba diving and visit Port Blair, to view the magnificent historical remnants.

5. Coorg (Kodagu , Karnataka):
There are many places one ha to visit in Coorg.
a)Raja's seat: A flower garden and beautiful Fountains even though artificial.
b) Abbey falls: the lovely waterfall it is helps spread the aroma of the coffee plantation located nearby. It is also a part of the Cauvery River.
c) Dubare, Elephant camp: Here you see the elephants and their cubs swim and bathe in the waters, and being trained by their Mahouts.
Other spots worth visiting are Iruppu waterfalls, Nagarhole National park, etc.
6. Thekkady:
This has to be one of the most popular destinations for tourists since you can get to Munnar from Thekkadi very easily. Thekkadi is known for the huge river called the Periyar river and the boating arrangements are world standard. Alongside the river banks and beyond are the Spice, tea and other plantations, the aroma of which cannot miss your nostrils. The wildlife sanctuary is situated here, and it would be rare for anybody to miss the elephants walk along the banks, as you are seated on the ferry. Apart from this are the Athirappy waterfalls, and the Eravikulam National park, which is worth visiting.
Conclusion:
There are at least 100 tourist spots in South India and all have their own attraction and beauty. A complete trip around South India, would remain in your hearts forever.
When it comes to 

outstation car rentals in Bangalore

, we at BSR Travels have a wide range of cars and mini buses available to suit your specific requirements. We have been offering 

tempo traveller rent in bangalore for outstation

 for many years. If you are looking for 

innova car rental bangalore outstation

, contact us today. When you choose us for outstation car hire, you can be sure that you will receive an outstanding customer service at a competitive price.